JOEL BAROI
National Youth Ministry Coordinator
Bangladesh Assemblies of God
AGYM/ Youth Alive
Assemblies of God Youth Movement is the National Youth Department of Bangladesh Assemblies of God. It was formed in 1979 with Church- youth groups. Now all the AOG youth groups having fellowship with AGYM. AGYM is actively working among the young people in Bangladesh. It has a strong working body of five members who are serving as a body of Christ. AGYM serves the local Youth Ministries and Churches by providing student-scholarship, spiritual leadership training to develop the youth socially, economically and spiritually.
Every year AGYM is raising funds and distributing the Christian tracts and gospel to the non-believers through the local Church youth groups. Thousands of tracts are distributing and the New Testaments are giving and to the High Schools and colleges and in there Library too.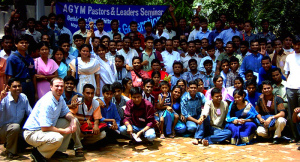 Every year many young leaders are coming forward through AGYM leadership training seminar.